Lung Cancer: Understanding, Preventing, and Conquering the Unknown
Lung cancer Introduction:
Lung cancer, a condition that affects the lungs, is a serious health issue that requires our attention and understanding. The lungs, essential for breathing and supplying oxygen to our bodies, are vulnerable to this disease. In this article, we aim to provide comprehensive information about lung cancer, its types, causes, symptoms, prevention, and treatment. Our goal is to empower you with knowledge to make informed decisions about your health.
What is Lung Cancer?
Lung cancer is a type of cancer that starts in the lungs. There are two primary types:
Non-Small Cell Lung Cancer (NSCLC): This is the most common type and includes subtypes like adenocarcinoma, squamous cell carcinoma, and large cell carcinoma.
Small Cell Lung Cancer (SCLC): This type grows more quickly and tends to spread earlier than NSCLC.
Causes and Risk Factors of Lung Cancer:
Understanding the risk factors associated with lung cancer is vital for prevention and early detection. Some common causes and risk factors include:
Tobacco Use: Smoking is the leading cause of lung cancer. Avoiding or quitting smoking is the most effective way to reduce your risk.
Secondhand Smoke: Exposure to other people's smoke is also a risk factor.
Exposure to Radon Gas: Radon is a radioactive gas that can enter homes and buildings and increase lung cancer risk.
Occupational Exposures: Certain jobs, such as asbestos mining and construction, may expose workers to carcinogens.
Air Pollution: Prolonged exposure to high levels of air pollution can be a risk factor.
Family History: A family history of lung cancer can increase individual risk.
Personal History of Lung Disease: Individuals with a history of lung disease, like chronic obstructive pulmonary disease (COPD), are at a higher risk.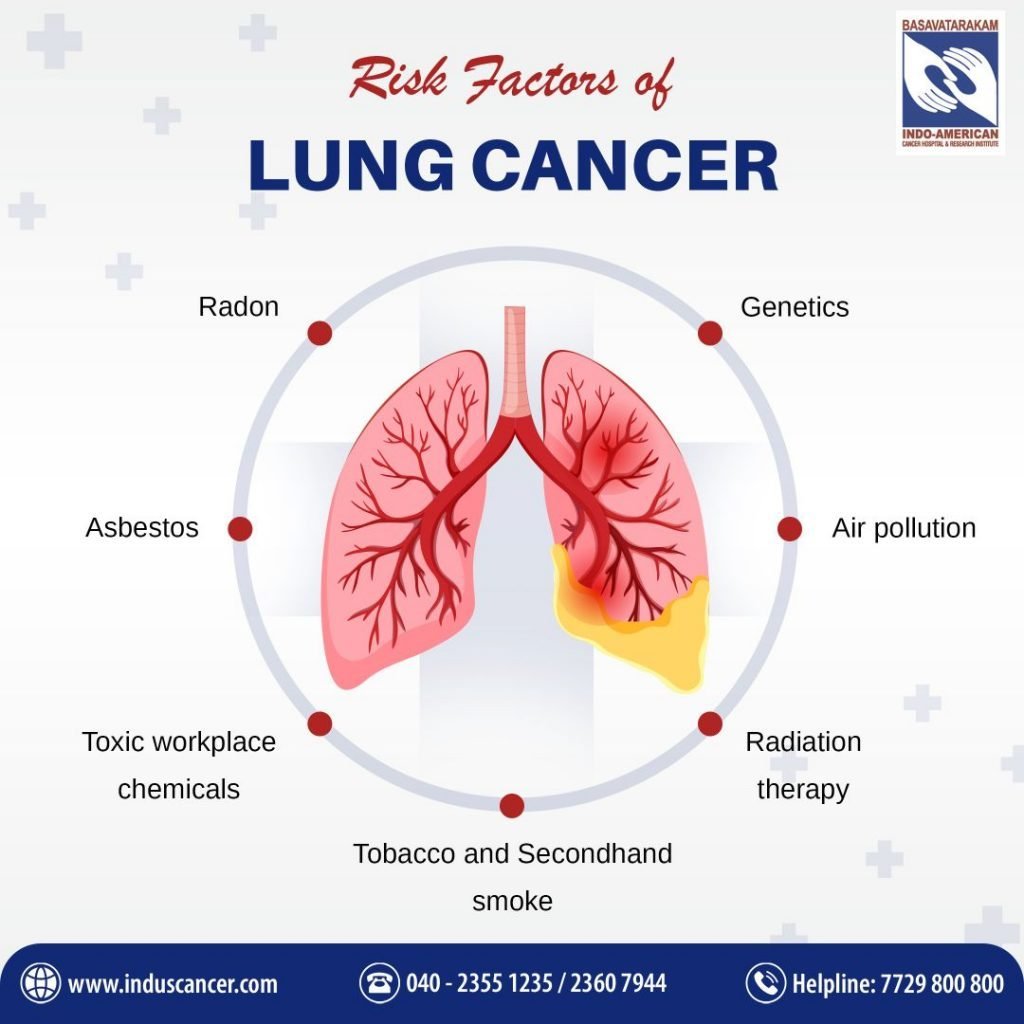 Symptoms of Lung Cancer:
Recognizing the signs and symptoms of lung cancer is crucial for early detection and timely intervention. Common symptoms include:
Persistent Cough: A lingering or changed cough, especially if it's bloody.
Breathing Changes: Shortness of breath or wheezing.
Chest Pain: Dull, aching, or sharp chest pain that worsens with deep breathing or coughing.
Unexplained Weight Loss: Sudden and unexplained weight loss.
Hoarseness: A persistently hoarse voice.
Repeated Infections: Frequent respiratory infections, like bronchitis or pneumonia.
Coughing Up Blood: Coughing up blood, even a small amount.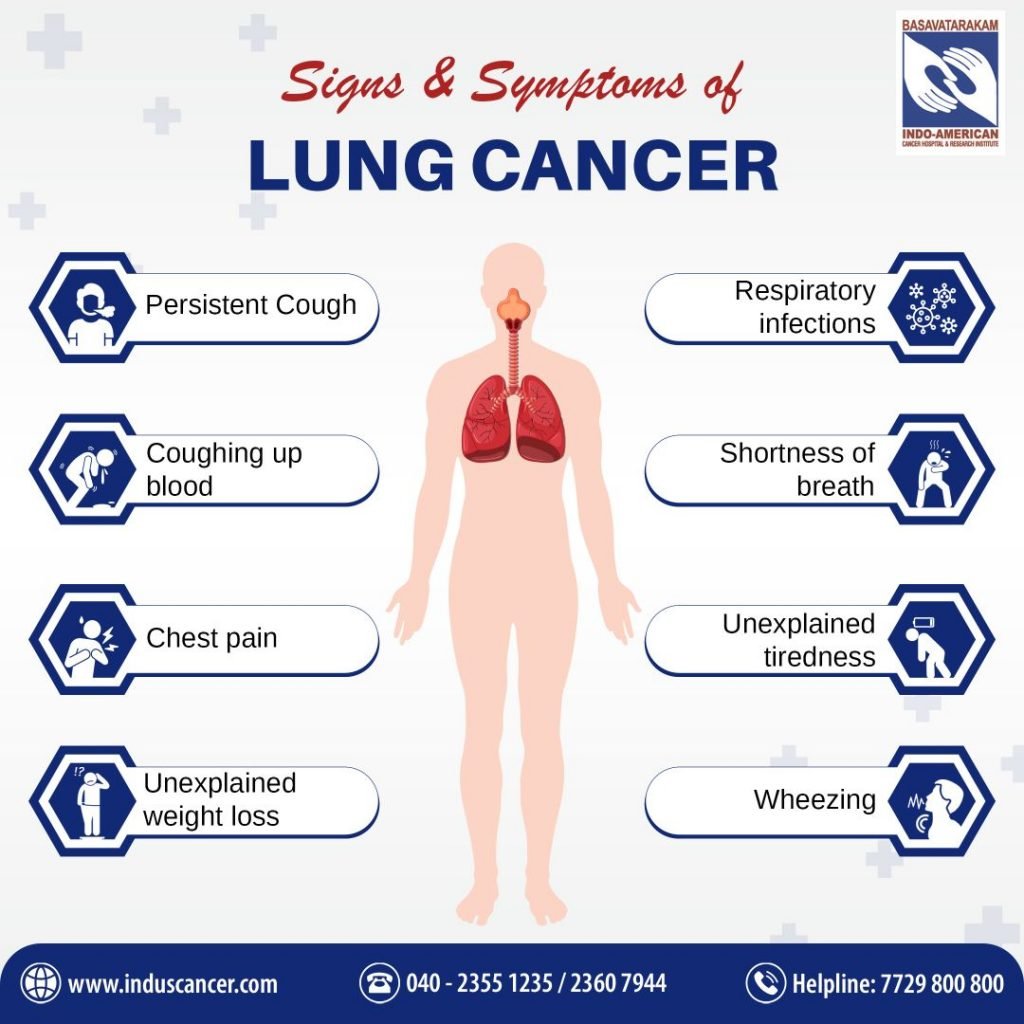 Diagnosis of Lung Cancer:
If you experience symptoms or have risk factors for lung cancer, it's essential to seek medical attention. Diagnosing lung cancer typically involves:
Imaging Tests: X-rays, CT scans, and PET scans to visualize the lungs and any potential tumors.
Biopsy: The removal of a small tissue sample for examination under a microscope to confirm the presence of cancer.
Treatment Options for Lung Cancer:
The treatment approach for lung cancer depends on the type, stage of the cancer, the patient's overall health, and other factors. Common treatment options include:
Surgery: Surgical removal of the tumor or, in some cases, a portion of the lung.
Radiation Therapy: Targeted radiation to shrink or kill cancer cells.
Chemotherapy: Medications that can slow the growth of cancer cells.
Targeted Therapy: Drugs designed to target specific abnormalities in cancer cells.
Immunotherapy: Boosting the body's immune system to fight cancer.
Prevention of Lung Cancer:
Preventing lung cancer often involves lifestyle changes and managing risk factors. Here are some preventive measures:
Quit Smoking: If you smoke, quit. Seek support or resources to help you quit successfully.
Avoid Secondhand Smoke: Steer clear of environments where people smoke, and encourage smoke-free policies.
Test for Radon: Test your home for radon gas, and mitigate if levels are elevated.
Reduce Occupational Exposures: Use protective equipment if your job involves exposure to carcinogens.
Limit Air Pollution Exposure: Stay informed about air quality and avoid prolonged exposure to polluted air.
Healthy Lifestyle: A balanced diet and regular exercise contribute to overall health and may reduce risk.

Conclusion:
Lung cancer is a serious condition, but with early detection and advances in medical science, effective treatments are available. Understanding the causes, symptoms, prevention, and treatment options is the first step toward managing this disease. If you have concerns about your lung health, consult a healthcare professional. Regular check-ups, a healthy lifestyle, and awareness are essential for protecting your well-being.
At Basavatarakam Indo American Cancer Hospital and Research Institute, we are dedicated to providing the best care and support for individuals facing lung cancer. Our mission is to empower you with knowledge and compassion, ensuring the best possible outcomes for your health.
Your health is valuable. Stay informed, stay vigilant, and prioritize your well-being.