Multiple Myeloma: Causes, Symptoms, Diagnosis, and Treatment – Indo American Hospital, Hyderabad

Multiple myeloma, also known as plasma cell myeloma, is a type of blood cancer that affects the plasma cells in the bone marrow. These plasma cells are responsible for producing antibodies that help the body fight infections. In multiple myeloma, these cells become abnormal and multiply uncontrollably, leading to the overproduction of a type of protein called monoclonal antibodies or M proteins. These M proteins can cause a wide range of symptoms and complications, including weakened bones, anemia, and kidney problems.
Causes of Multiple Myeloma:
The exact cause of multiple myeloma is not known, but there are several factors that may increase a person's risk of developing this cancer. These factors include:
Age: Multiple myeloma is more common in people over the age of 60.
Gender: Men are slightly more likely than women to develop multiple myeloma.
Race: Multiple myeloma is more common in African Americans than in Caucasians.
Family history: People with a family history of multiple myeloma are at a higher risk of developing the disease.
Exposure to radiation or chemicals: Exposure to high levels of radiation or certain chemicals may increase a person's risk of developing multiple myeloma.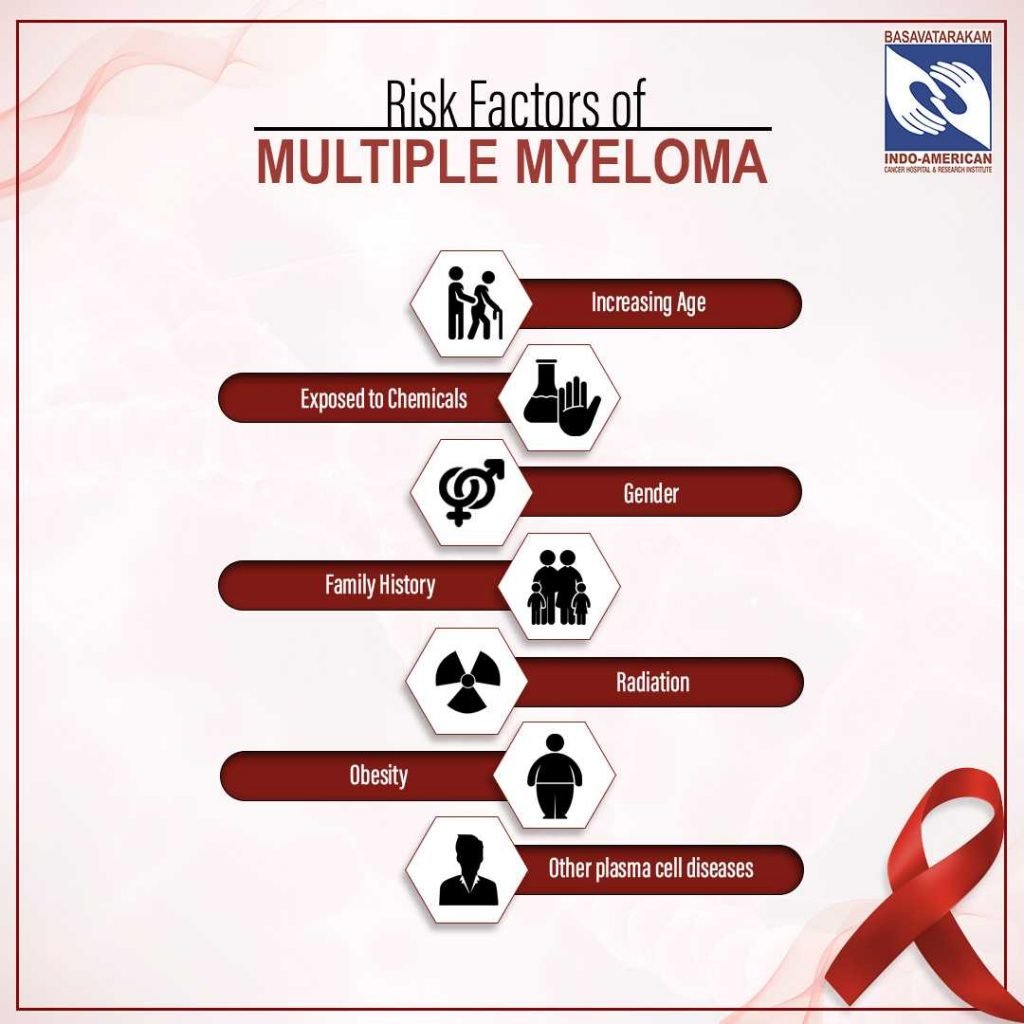 Symptoms of Multiple Myeloma:
The symptoms of multiple myeloma can vary from person to person, and some people may not have any symptoms at all in the early stages of the disease. However, common symptoms of multiple myeloma include:
Bone pain: This is one of the most common symptoms of multiple myeloma. The pain is usually felt in the back or ribs and is often worse at night.
Fatigue: People with multiple myeloma often feel tired and weak.
Anemia: Multiple myeloma can cause a decrease in the number of red blood cells in the body, leading to anemia.
Frequent infections: Multiple myeloma can weaken the immune system, making it harder for the body to fight off infections.
Kidney problems: The excess M proteins produced by multiple myeloma can damage the kidneys, leading to kidney problems.
Diagnosis of Multiple Myeloma:
To diagnose multiple myeloma, your doctor may perform several tests, including:
Blood tests: Blood tests can detect the levels of M proteins in the blood and other abnormalities.
Urine tests: Urine tests can detect the levels of M proteins in the urine.
Bone marrow biopsy: A small sample of bone marrow is taken and examined under a microscope to look for abnormal plasma cells.
Imaging tests: Imaging tests such as X-rays, CT scans, or MRI scans may be used to look for bone damage or other abnormalities.
Treatment of Multiple Myeloma:
There is no cure for multiple myeloma, but treatment can help manage the symptoms and slow the progression of the disease. Treatment options for multiple myeloma may include:
Chemotherapy: Chemotherapy uses drugs to kill cancer cells.

Radiation therapy: Radiation therapy uses high-energy radiation to kill cancer cells.

Stem cell transplant: Stem cell transplant involves replacing the patient's diseased bone marrow with healthy stem cells.

Targeted therapy: Targeted therapy uses drugs to target specific molecules that are involved in the growth of cancer cells.

Supportive care: Supportive care includes treatments such as pain management, infection control, and kidney support.
In conclusion, multiple myeloma is a serious blood cancer that can cause a wide range of symptoms and complications. If you experience any symptoms of multiple myeloma, it is important to see your doctor for an evaluation. Early diagnosis and treatment can help manage the symptoms and improve the quality of life