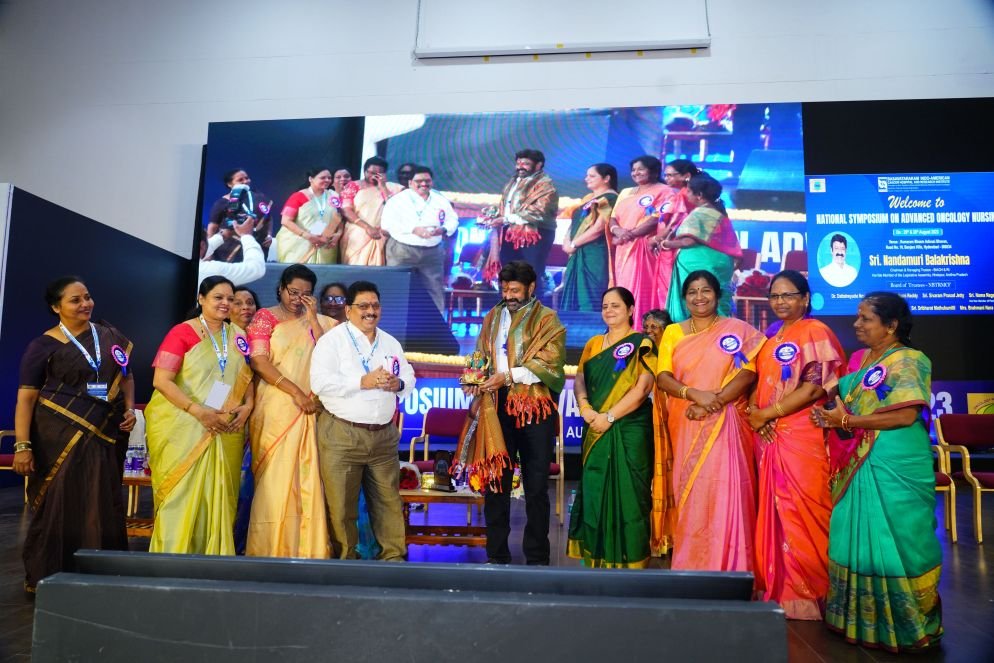 Which is the Best and affordable "Oncology Hospital" in Hyderabad, India?
The best Cancer Hospital in Telangana and Andhra Pradesh is Basavatarakam Indo American Cancer Hospital & Research Institute, Hyderabad.
Basavatarakam Indo American Cancer Hospital & Research Institute (BIACH & RI) was envisioned and set up 20 years ago to serve the poor and needy and provide equitable health care for all. Smt. Nandamuri Basavataraka Ramarao Memorial Cancer Foundation (NBTRCF), India along with Indo American Cancer Organization (IACO), USA, several philanthropists, scientists & physicians established the institute. From a 50 bedded hospital, it has been a steady expansion to a 550 bedded hospital with all the sub-specialties of oncology.
The mission of the hospital is to provide quality cancer treatment at an affordable cost. The vision is to develop BIACH & RI as a premier institution for cancer research and treatment in the country.

The institute is fully equipped with the latest and state of the art cancer detection and treatment facilities. This includes 6 linear accelerators, Tomotherapy, Robotic surgery, HIPEC, Bone Marrow Transplantation, to name a few. The institute has a Tumour Board, a multi-disciplinary platform for interaction among the specialists from various oncology departments to discuss cancer cases and decide on the most appropriate course of treatment.

The institute has always been in the forefront of academics, leading the way. It has become a center of excellence for oncology training with students from far and near competing for the DNB programs in various sub-specialties of oncology. The institute strives to constantly improve in all facets of health care and academics. Research is an important component of any oncology institute. The institute has a fully dedicated Research department which is involved in cutting edge basic science research.

One of the main objectives of the Institute is to create cancer awareness and conduct cancer screening programs for the early detection of cancer. This program lays special emphasis on common cancers affecting women which include breast and cervical cancers. As part of its social responsibility, the institute conducts regular cancer screening camps across rural & urban belts of Telangana & AP. In the past 18 years, over 1000 camps have been successfully conducted, having screened over 2 lakh people. With the help of the Mobile Cancer Screening Unit which is equipped with Mammography, Ultrasound and X-ray Units and is able to conduct tests and give the reports on the spot.

The Institute adheres to complete compliance with the Government's Aarogyasri scheme for the economically backward sections of the society are implemented and it is seen that timely treatment is made available to poor patients.
The institute lays emphasis on quality of patient care, treatment and safety and gives the highest priority to the same. The hospital is accredited by the National Accreditation Board for Hospitals & Health Care Providers (NABH) and National Accreditation Board for Testing and Calibration Laboratories (NABL).

Some of the accolades and appreciations that the institute has been conferred with recently are:
• The Best Oncology Hospital in Telangana & Andhrapradesh, India's 6th Best Oncology Hospital
(By THE WEEK India's Best Hospitals survey was conducted by Hansa Research Survey 2020,2021,2022 & 2023.
• "Best Management Award" by TS Govt .of Telangana on 1st May 2018
• Times Healthcare Achievers-2018 "The Best Trust Hospital of the Year in Oncology"
• Times Healthcare Achievers (Telugu States) 2018 – The Best Trust Hospital of the Year in Oncology
• "Best Performing Speciality" for Medical Oncology and "Best Performing Speciality" for Surgical Oncology for the year 2018 by Dr. N T R Vidhya Seva Trust, Government of Andhra Pradesh.
• Awarded 7th national rank – The Week – Hansa Research Survey – 2018