Melanoma and Skin Cancer – Causes and Risk Factors, Symptoms and Detection, Diagnosis and Treatment & Prevention
Melanoma and Skin Cancer: A Comprehensive Guide
May is Melanoma and Skin Cancer Awareness Month in India. With over 1 million cases diagnosed annually, skin cancer is the most common type of cancer in the country. Among the various forms of skin cancer, melanoma stands out as the most serious type. However, it is also the most preventable. In this blog post, we aim to provide you with a detailed understanding of melanoma, its risk factors, symptoms, diagnosis, treatment options, and prevention strategies.
What is Melanoma?
Melanoma is a type of skin cancer that originates in the cells responsible for producing melanin, the pigment that gives color to our skin, hair, and eyes. While melanoma can develop on any part of the body, it predominantly appears on areas of the skin exposed to the sun, such as the face, neck, and arms.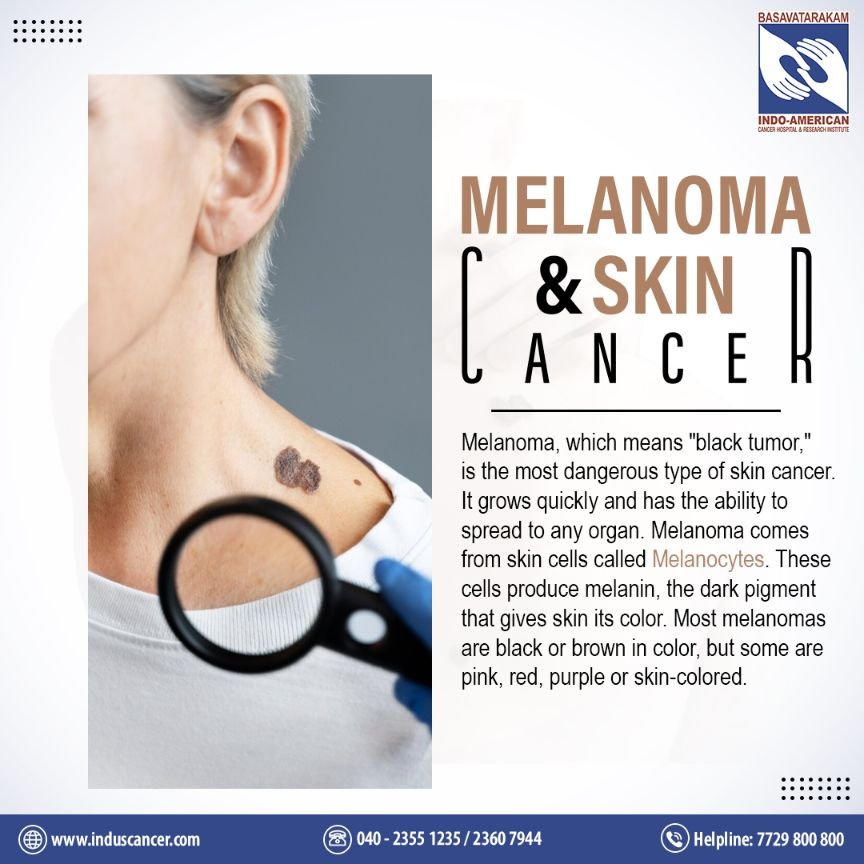 Risk Factors for Melanoma
Several factors can increase an individual's risk of developing melanoma. These include:
Fair Skin: People with fair skin have less melanin, which offers natural protection against the harmful effects of ultraviolet (UV) radiation.
Family History: Having a family history of melanoma increases the risk of developing the disease. Genetic factors may play a role in certain cases.
Personal History: Individuals who have previously had skin cancer, including melanoma, are at a higher risk of developing it again.
Sunburns: Severe sunburns, especially during childhood or adolescence, elevate the risk of melanoma later in life.
UV Radiation Exposure: Prolonged exposure to UV radiation, whether from the sun or artificial sources like tanning beds, can heighten the risk of developing melanoma.
Symptoms of Melanoma
The symptoms of melanoma can vary, and it is crucial to be aware of any changes in your skin. Common signs and symptoms of melanoma include:
New Moles or Changes in Existing Moles: Look out for new moles that appear or changes in the size, shape, color, or texture of existing moles.
Bleeding, Itching, or Crusting: Moles that bleed, itch, or develop a crust should be examined by a medical professional.
Size of Moles: Melanomas are often larger than 6 millimeters in diameter, roughly the size of a pencil eraser, but they can also be smaller.
Diagnosis of Melanoma
If you suspect melanoma or notice any concerning changes in your skin, it is crucial to seek medical attention promptly. A dermatologist or other healthcare professional will perform a thorough examination of your skin and may recommend a biopsy to confirm the diagnosis. During a biopsy, a small tissue sample is removed from the suspicious area and examined under a microscope to determine if cancer cells are present.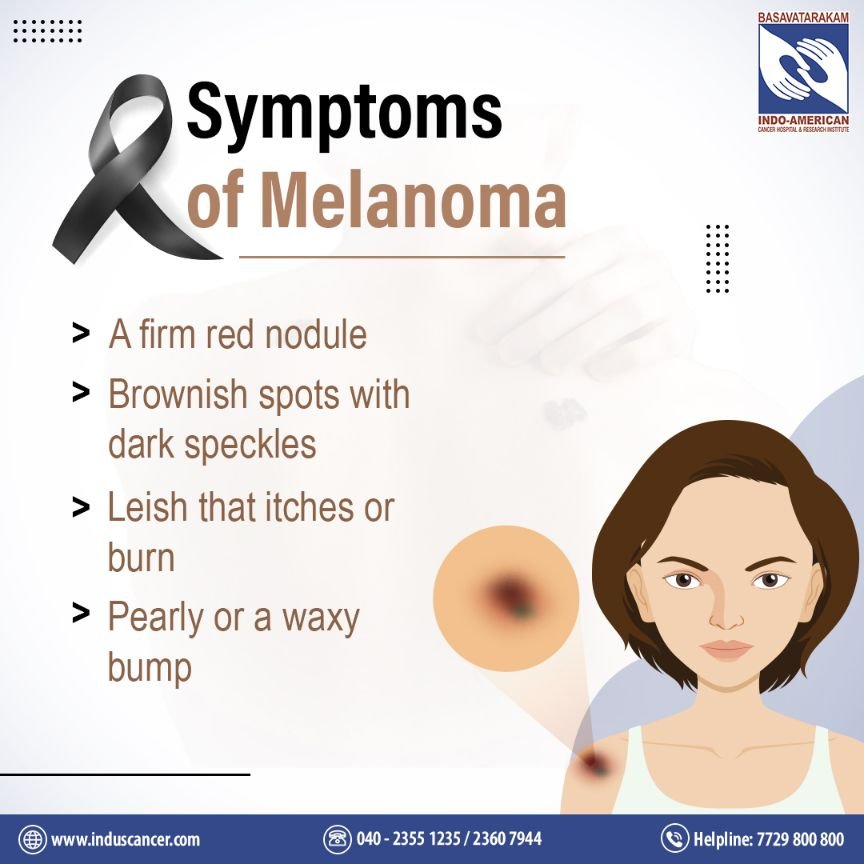 Symptoms and Detection:
Early detection plays a crucial role in the successful treatment of melanoma. Pay attention to the following symptoms and changes in your skin:
Asymmetry: One half of the mole or spot is unlike the other half.
Border: The edges of the mole are irregular, blurred, or notched.
Color: The mole exhibits various colors, such as shades of brown, black, tan, red, white, or blue.
Diameter: The mole is larger than 6 millimeters in diameter (about the size of a pencil eraser), although smaller melanomas can also be concerning.
Evolution: The mole evolves in size, shape, color, or elevation, or develops new symptoms such as itching, bleeding, or crusting.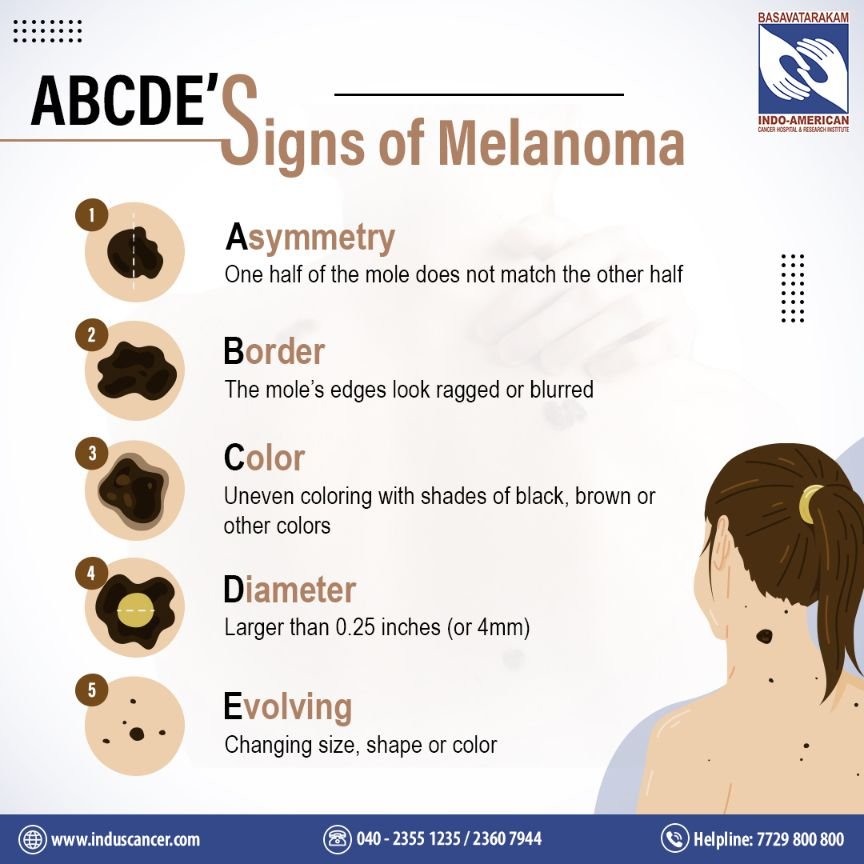 Treatment Options for Melanoma
The treatment of melanoma depends on various factors, including the stage of the cancer and the individual's overall health. Treatment options for melanoma may include:
Surgery: In the early stages of melanoma, surgical removal of the tumor and a margin of healthy tissue may be sufficient to eliminate the cancer.
Chemotherapy: Chemotherapy involves the use of drugs to kill cancer cells and may be recommended if the melanoma has spread beyond the skin.
Radiation Therapy: Radiation therapy uses high-energy beams to target and destroy cancer cells. It is often employed after surgery or in cases where surgery is not an option.
Immunotherapy: Immunotherapy stimulates the body's immune system to recognize and attack cancer cells. It is particularly effective in advanced melanoma cases.
Preventing Melanoma
While melanoma can be a serious condition, several preventive measures can significantly reduce the risk of developing it:
Avoid Sun Exposure: Limit your time in the sun, especially between 10 a.m. and 4 p.m. when the sun's rays are the strongest.
Use Sunscreen: Apply a broad-spectrum sunscreen with a sun protection factor (SPF) of 30 or higher to all exposed areas of your skin, including your face, neck, arms, and legs. Reapply every two hours, or more frequently if swimming or sweating.
Wear Protective Clothing: When spending time outdoors, wear protective clothing such as wide-brimmed hats, long-sleeved shirts, and sunglasses with UV protection.
Avoid Tanning Beds: Tanning beds emit UV radiation, which increases the risk of skin cancer. It is best to avoid them altogether.
Regular Skin Examinations: Perform self-examinations of your skin regularly and be vigilant about any changes. If you notice anything suspicious, consult a healthcare professional.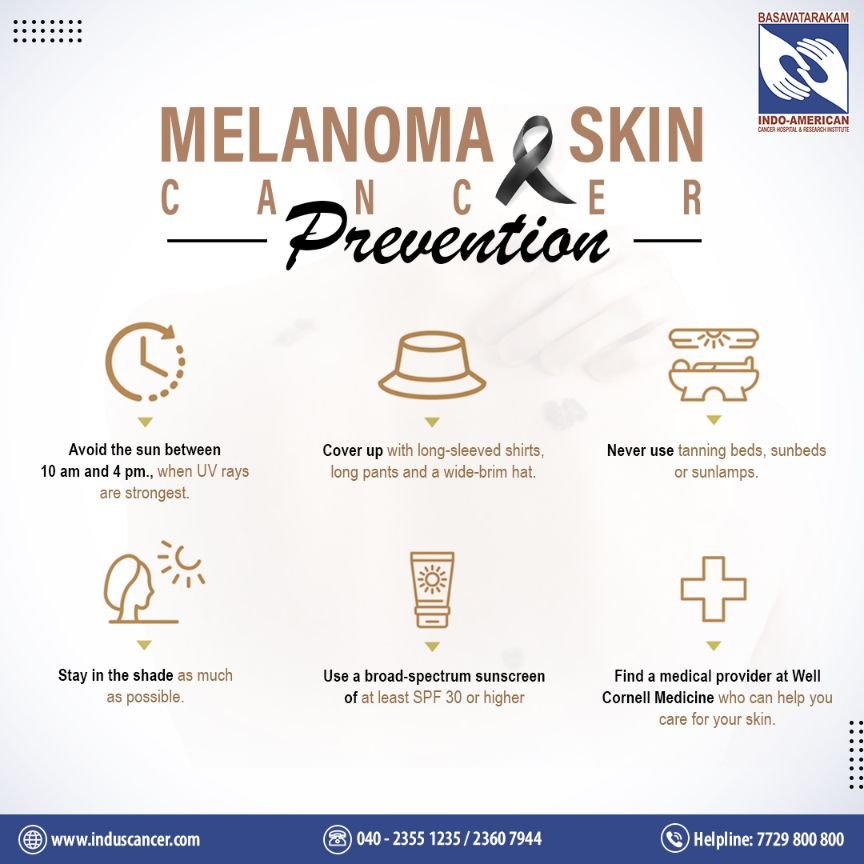 Basavatarakam Indo American Cancer Hospital: Comprehensive Care for Skin Cancer
At Basavatarakam Indo American Cancer Hospital, we are dedicated to providing comprehensive care to patients with skin cancer. Our experienced team of doctors and nurses specializes in the diagnosis, treatment, and management of melanoma and other skin cancers. We recognize the importance of early detection and personalized treatment plans tailored to individual needs.
To learn more about skin cancer or to schedule an appointment, please contact us at 040 – 2355 1235 / 7729 800 800. Our team is ready to assist you and provide the necessary support throughout your journey.
Join Us in Raising Awareness
During the month of May, we invite you to join us in raising awareness about melanoma and skin cancer. By sharing information, educating others, and promoting early detection, we can make a significant impact in saving lives. Together, let's work towards a future where melanoma and skin cancer are better understood, prevented, and treated.